Abby Performs At the After-Fight Party For Friend Manny Pacquiao Las Vegas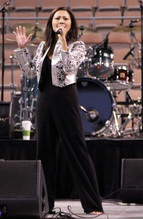 Seen Rehearsing, Abby performed "Somebody Turn the Electric On" and "Devil Dressed in Lace". Clips of in this performance are on her Tours page where you can catch a glimpse of her performing and receiving testimonials.
---
Feel My Fire - Under the Covers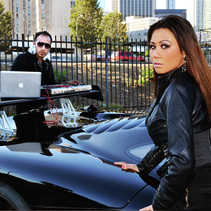 The phenomenon has arrived. Abby Cubey and the car named after her – The Cubey GTR. The song written by Paul Drago-Abby Cubey-Omar Rojaz-Amber Nicole Irish and produced by Paul Drago/Omar Rojaz for JOJOKID Music and featuring the sounds of the Cubey GTR designed by J. Todd Wagner has hit the scene – featured on FOX "The Car Show.
---
---
Where it all Began - Abby Cubey at the House of Blues June 22nd, 2010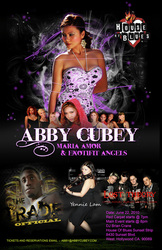 A
bby performed at her CD release party, hosted by JOJOKID Music, where she unveiled her first major effort with an acclaimed CD "Believe in Me" There she sang her other "A" side hit, " Dame Mas Electricidad"
---
---
Ground Breaking Alliance
Abby and Raptor





A video

, a song and a car, all wrapped up in a single package. This will make

headlines

in Q3

and

Q4 2011. NASCAR bound Mosler Car.





---

Remember to stake a few minutes and sing up for Abby's mail list. We'll be doing weekly giveaways, including free downloads, and an opportunity to remix her songs on Re Mix Galaxy.

---
Abby - the Radio Talk Show Host and Creating a Variety Show?

Well, Stay tuned for this one. If you know a celebrity who would want to guest host
Please send a message
on the "Community" Button-

Producer-Composer-Arranger

---